Learn Chinese Shopping Vocabulary
Learn Chinese Shopping Vocabulary
Posted by Julia Song on 11/11/2015 8:00 PM 936
Shenzhen, just across the border from Hong Kong, is the 3rd largest city in China.
Renowned for its technology sector and for providing an up close look at the "New China", Shenzhen is China's melting pot—a place to see and experience the entirety of rich Chinese culture..
Shenzhen is a great place to learn Chinese and Hanbridge Mandarin School is the best language school in the city Check out their Hanbridge Mandarin Immersion Mandarin Program for the fastest path to learning perfect Mandarin.
Shenzhen is a shopper's paradise. The city has everything from the bargaining paradise of Dongmen Market to Gucci, Prada and other luxury brands. Shenzhen also boasts dozens of large and well equipped shopping malls – full of clothing stores, restaurants and movie theaters.
Shenzhen's Dongmen is one of the oldest parts of the city. Established about 300 years ago, it is alternatively known as "Laojie" (or "Old Street").The variety of shopping in Dongmen is wide, and if you can't find it in Dongmen, it probably doesn't exist. Beauty parlor services are very popular in Dongmen and it also boasts one of the best food courts in the city.
Are you ready to use Mandarin to shopping in Shenzhen's Dongmen? To help you get started, we've put together a basic Chinese vocabulary list on shopping. Check it out.
Key words of Shopping:
店(diàn)员(yuán)—shop assistant
店(diàn)员(yuán)拿(ná)了(le)一(yī)双(shuāng)鞋(xié)给(gěi)玛(Ma)丽(ry)。
The shop assistant passes one pair to Mary.
漂(piào)亮(liang)—pretty; beautiful
我(wǒ)们(men)的(de)鞋(xié)很(hěn)多(duō),也(yě)很(hěn)漂(piào)亮(liang)。
We have many shoes and they are very pretty.
怎(zěn)么(me)样(yàng)—what about…
这(zhè)双(shuāng)鞋(xié)怎(zěn)么(me)样(yàng)?
How about this pair of shoes?
有(yǒu)点(diǎn)儿(er)—a little bit
这(zhè)件(jiàn)衣(yī)服(fu)有(yǒu)点(diǎn)儿(er)大(dà),有(yǒu)小(xiǎo)一(yì)点(diǎn)儿(er)的(de)吗(ma)?
This clothes is a little bit big. Do you have smaller ones?
喜(xǐ)欢(huan)—to like
你(nǐ)喜(xǐ)欢(huan)什(shén)么(me)颜(yán)色(sè)?
Which color would you like?
便(pián)宜(yi)—cheap
买(mǎi)两(liǎng)件(jiàn)可(kě)以(yǐ)便(pián)宜(yi)一(yì)点(diǎn)儿(er)吗(ma)?
Any discount for two?
太(tài)贵(guì)了(le)—too expensive
这(zhè)件(jiàn)衣(yī)服(fu)太(tài)贵(guì)了(le)。
This clothes is too expensive.
打(dǎ)折(shé)—to give discount
这(zhè)双(shuāng)鞋(xié)可(kě)以(yǐ)打(dǎ)八(bā)折(zhé)。
This pair of shoes can be got 20% off
At Hanbridge Mandarin, we'd love to help you improve your Mandarin ability. Contact us to today to start your Mandarin learning journey .
About The Author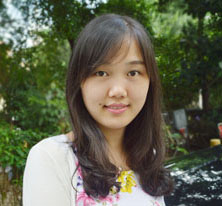 Julia Song
Julia's cheerful attitude and close attention to her students' progress make her an excellent Mandarin teacher for students of all levels. Holding a bachelor's degree in language instruction and several years' teaching experience, Julia excels at linguistic pedagogy and one-on-one instruction. Learn Chinese online with Julia Song >>