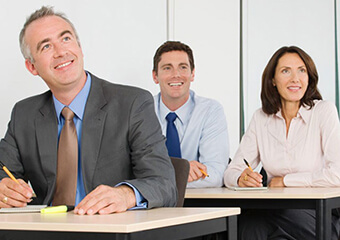 Business Chinese
Availability: Business Professionals
Advance your career and expand your influence by learning to communicate with the businesses fueling the world's most exciting and rapidly-growing economy!
Designed for busy professionals, this course focuses on essential language used in the business world. Special emphasis on common Chinese business practices provides students an introduction to Asian business culture.
Learn how to facilitate better communication between yourself and Chinese-speaking businesses and clients.
Gain a better understanding of Chinese business culture and specific commonly used business vocabulary.
Advance your career and expand your influence by learning to communicate with a large and fast growing economy.
For those who have some basic knowledge of Chinese language skills in daily communications. Learners will be introduced to basic Chinese business etiquette, such as the proper way to accept and present a business card and confidently making a self-introduction in social and business settings.
Sample Contents:
1

Chinese phonetics

2

Greetings

3

Self-introduction

4

Making and answering phone calls

5

Getting familiar with Chinese currency(RMB)

6

Learning to understand and express costs for purchases

7

Learning about shopping and bargaining

8

Learning how to accept a business card and present yours
What Do You Learn from Our Business Chinese Courses
We introduce pinyin, the phonetic system that allows non-Chinese speakers to phonetically read words to learn how to say them. Providing some common business and social situations as examples, your business Chinese teacher will focus on training your listening and speaking in basic daily vocabulary. Starting with short sentences, you learn greetings, self-introduction, and familiarity with Chinese currency. By the time you complete this learning level, you'll be able to understand some simple questions and answers.
For those who are ready to move beyond simple daily life queries and responses to meet basic needs and learn communication for building relationships. Business etiquette will also cover such topics as how to drink at a ceremonial business dinner in China.
Sample Contents:
1

Having a conversation about the weather

2

Offering and responding to congratulations

3

Expressing and accepting an apology

4

Introducing your study and work experience

5

Sharing your hobbies and interests

6

Bank visits

7

Learning about social etiquette in China

8

Understanding and granting requests
What Do You Learn
You will learn about some simple daily business tasks and how speak about them in Mandarin starting with short sentences and simple dialogues. After completing this learning level, you will know how to engage in social activities related to your business.
For those who can ask and answer simple questions with short sentences on familiar topics this course will deepen communication for relationship building. Business etiquette will also cover such topics as becoming familiar with various social behaviors indicating Chinese hospitality, such as when dining out and paying the bill.
Sample Contents:
1

Learning about Chinese festivals

2

Making and replying to an invitation

3

Learning how to order and pay the bill in a restaurant

4

Participating in a ceremonial business dinner

5

Introducing your company and your role in it

6

Introducing your product

7

Understanding the Chinese practice of modesty

8

Offering and accepting praise
What Do You Learn
This segment of instruction focuses on understanding Chinese cultural practices in building and sustaining business relationships. Focus is on behavior in formal and informal business situations where understanding Chinese communication norms and social customs are so important.
For students who can confidently communicate in many informal and formal situations and who are ready to incorporate learning new daily life situations. Business etiquette will also cover such topics as what to expect when making a deal in China and "when are we going to get down to business?"
Sample Contents:
1

Soliciting and sharing opinions

2

Talking about your plans

3

How to search for potential business partners and suppliers online

4

Learning the language of promoting and marketing your products

5

How to negotiate with Chinese people at the dinner table

6

Contracts and insurance in China

7

Claims and arbitration in China

8

How to represent your company at a trade show, like the Canton Fair in Guangzhou
What Do You Learn
This level of instruction provides intensive focus on Chinese communication norms and social customs so that learners can move freely and easily in throughout the work day. You will learn the language of professional Mandarin for negotiating agreements and trade deals to effectively cooperate with your partners and suppliers.