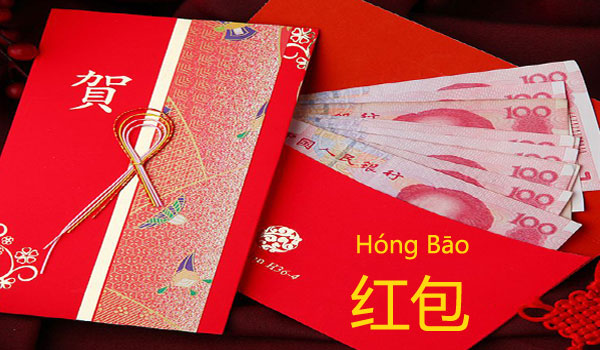 3 Ways to say 红包 (Hónɡ Bāo )
Red packet, Red Envelope or simply Hongbao
Origin and Significance of Hongbao
There are no clear literary sources to trace the origin of the red envelope tradition. In China, during the Qin Dynasty, the elderly would thread coins with a red string. After the foundation of the Republic of China, 压岁钱 was evolved to be wrapped by red papers, since the red color symbolizes good fortune in Chinese tradition. hóng bāo 红包 was called 压岁钱yā suì qián, which initially expresses the meaning of "money suppressing evil spirits". It's a tradition that during Chinese New year, red envelopes are typically given by the married to the unmarried, most of whom are children. Because it's traditionally believed that children are easy to get hurt by evils, so people will give them 压岁钱 to protect them and allow the younger generation to spend their year peacefully and safely.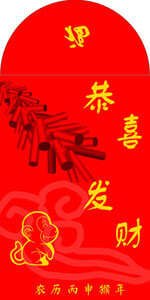 The act of requesting for red packets is normally called 讨红包Tǎo Hónɡ Bāo
A common sentence to requesting for red packet you should know.
Gōng Xǐ Fā Cái, Hóng Bāo Ná Lái!!!
恭喜发财,红包拿来!
Best wishes for the New Year, may I have my Red Envelope please?"!!!
When to Give Chinese Red Envelopes
Actually people begin giving the red envelopes in the days surrounding the Lunar New Year, especially from Spring Festival to Lantern Festival. From the first day of the new year, relatives or friends would start to pay a New Year visit during the whole 15 days.
Besides giving red envelopes during Lunar New Year, it's also very common to send red envelopes during many other occasions, such as wedding, birthdays or in a ceremony.
How to Give Chinese New Year Lucky Money
Who should I give hongbao to and how much should I put in the packet
Generally speaking, you would have to start giving red enveloped once you start to earn money, which is considered as a symbolic way to share your love and blessings. However, if you are not married, you do not have to do that.
长辈Elders (especially your parents and grandparents): generally 500–2,000 yuan
晚辈Younger generation (especially those who are still at school), 50–200 yuan ( aways give to close friends and relatives' children;
儿女Your own children: from 100 yuan to the amount you wish to give. But do not be too exaggerate; too much money will spoil your children.
职工Employees: 100–1,000 yuan (always given on the last working day before the Chinese New Year holiday and the first working day in the New Year, which is commonly called"开门红" in North and centeral China, or "开门利是" in Guangdong.
同事Colleagues: 5-100 yuan (It's a tradition that employees who got married should give red envelopes too those colleagues unmarried at the first working day in the New Year. General staff can give 5-10yuan, but if you are a boss or manager, you should give at least 20 yuan.)
电子红包Digital Hongbao to close friends: Just a way to share your love and blessing.(Amount is all depend on you, but it should be related to Chinese lucky numbers 6 or 8. (For example, 6.66,66.66, 8.88, 88.88). You can send the hongbao on Wechat, QQ and Alipay.
其他小朋友To other children: Prepare some all red envelopes for acquaintances' children, The amount of money contained vary from 20 to 100 yuan.
Even the children would get the most Hongbao during Chinese New Year, but most of them did not own all the money. Some would handle mostly the hongbao over to their parents, some would go to play online games, the rest of them would buy yummy food. Among most of Chinese families, the money goes back to parents.
Things to avoid when giving Red Envelopes
1. The amount should be a round number, especially about 6 and 8
In accordance with Chinese beliefs, the amount of money in the envelope, is usually a round number. A perfect number is related to 6 and 8, since 6 in Mandarin has the similar pronunciation to that of "溜(liu)", sounds like smooth life.
For example: Chinese idiom "Liù Liù Dà Shùn 六六大顺" means everything goes smoothly.
8 is a homophone of the word "发(fa)", it emphasizes prosperity or fortune.
e.g Gōnɡ Xǐ Fā Cái 恭喜发财
May you be prosperous; Wishing you prosperity
2. New and Crisp Money Inside. No Coins
New, crisp and shiny bills inside are the best, try to avoid folded, dirty and wrinkled bills. That would be considered in bad taste. Coins should be out of option as well.
3. No number "Four" appear in the amount
Number 4 signifies bad luck in Chinese culture, because the pronunciation of the world "Four" (四, sì) is nearly homophonous to the word "death" (死sǐ) in Mandarin Chinese.
To help you get involved in Hongbao spirit in Chinese culture, Hanbridge Mandarin is giving away millions of Hongbao during this coming Chinese New Year, visit the page to grab a red envelope. Do not miss the fun of grabbing Red envelopes. There are varieties of gifts with Chinese culture implied in Chinese Envelopes, such as Cash coupon, Chinese knot, Chinese learning e-book, key chain, Chinese Porcelain, Chinese fan and so on. Join the activity now!