Chinese New Year 2017 is coming up. For many people, Chinese New Year is a religious festival as well as a lot of fun. There are many taboos during the period of Lunar New Year in according to Chinese traditions and culture. Chinese people traditionally consider a special moment or action as a bad sign or fortune. We either call is superstition or taboos.
Some elder people still take them seriously. There is an old saying "To be safe than to be sorry", it's all up to you to believe it or not.
Here is a roundup of the taboos during the Chinese New Year, which will all on Feb 8th this year.
Taboos before Chinese New Year
On 24th, Dec in Lunar calendar, is commonly called 小年xiǎo nián. People start to clean their houses to welcome the coming of the new year.
On 25th, Dec. in Lunar calendar, do not chase after debtor in Taiwan.
On 26th, Dec. in Lunar calendar, you should never give alms to someone else.
On 29th, Dec. in Lunar calendar, people will make steamed bread for ancestor worship. 
Taboos on Chinese New Year's Eve
New year's Eve is commonly called "年三十". "除夕". It's the last day of the passing year. There are many traditions on this day.
Stay up night
Turn all lights on all night.
Leave the dishes on reunion dinner. With the aim "surplus year after year"
Only auspicious words (learn how to say happy new year in Chinese), no dirty words
Chinese New Year Taboos and Superstitions
Chu-yi (Day One)
Married women should not visit their own parent's house.
Do not eat things like congee, porridge, meat or medicine for breakfast
Do not wake up a person by calling his/her name
Do not wake sleeping people up with New Year greetings.
Stay away from knives and scissors.
It's a taboo to use needle and knit.
Do not use an axe and split firewood.
Avoid lending money.
Do not break any bowls, glasses or anything, which is considered as a sign of bankruptcy. But if you accidently break it, utter the words "岁岁平安Suisui Ping'an", which is a homophone for the phrase for碎碎平安, meaning peace all year round. Or "落地开花,富贵荣华luò dì kāi huā, fù ɡuì rónɡ huá"
Never sleep during daytime.
It's prohibited to dump dirty water, rubbish and sweep the floor.
Never let somebody take things from your own pocket, which implies your fortune will be taken away.
Do not repaymentof a Anyone who does so it is said will be unlucky all the year.
Avoid saying dirty words, getting into fights, family arguing. If there are these situations, relatives and neighbors will come to stop the fight.
It's also forbidden to sweep the floor, because this action may accidentally sweep or dump out the good luck or good fortune from the house. If you really have to do that, you have do sweep from outside to inside, however the garbage and dust should not be carried through the front door, as this may result in death.
This tradition is still taken seriously in some regions of China. Clean all your houses thoroughly before New Year's Eve, no cleaning on the first day of New Year, no dumping garbage and water.
Taboos on Chu-er (Day Two)
Married daughters should go back to their parents' home with their hansband, so the day is commonly called "迎婿日yínɡ xù rì",meaning"day of welcoming son-in-law". Married daughters should go back to parents' home with gifts and red envelopes, then distribute to the children in parents'home and enjoy a lunch meal, then go back to husbands' home before super. People will take a family photo on this day. The presents should be in round number, no single number, with the symbolic of good things always come in double.
Taboos on Chu-san (Day Three)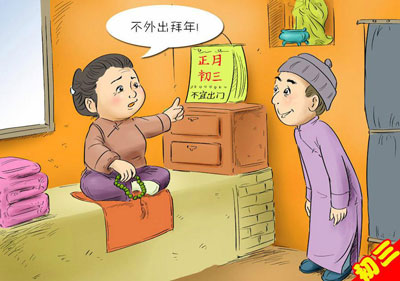 People will not pay a new year visit on Chu-san in old days, because it's easy to get a quarrel fight on this day, but this tradition is disappearing nowadays.
Taboos on Chu-si (Day Four)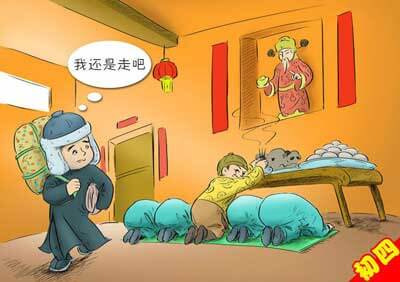 The tradition is the worship the god of wealth on the fourth day in lunar calendar. In the past days, the boss would not invite the person to the worship if he wants to fire someone. Then the employee would get the meaning and leave without notification. People would stay at home on this day.
Taboos on Chu-wu(Day Five)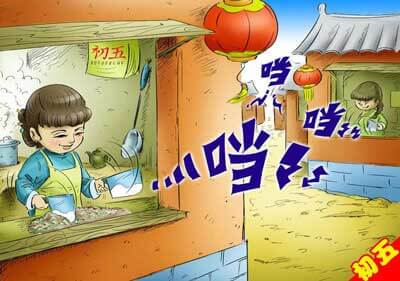 People will throw away all the rubbish collected during the new year's day. The act of littering on this day is associated with pushing the poverty away. Dumplings are a common dish eaten today.
Taboos on Chu-liu(Day Six)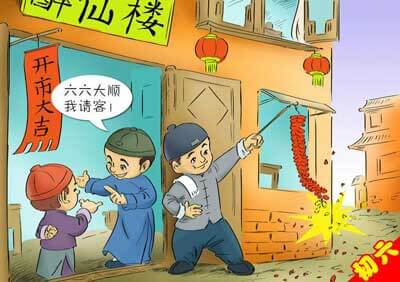 The sixth day of the New Year, it's an opening day of shops and restaurants. A grand fireworks ceremony will be hosted.
To help you get involved in Hongbao spirit in Chinese culture, Hanbridge Mandarin is giving away millions of Hongbao during this coming Chinese New Year, visit the page to grab a red envelope. Do not miss the fun of grabbing Red envelopes. There are varieties of gifts with Chinese culture implied in Chinese Envelopes, such as Cash coupon, chopsticks, brush, monkeydoll, Chinese knot, Chinese lantern, Chinese fan.