Facebook is a great place to practice your Chinese, just type in "Chinese learning" in the Facebook search box and a lot of related pages come up, but you still need some recommendations because search results are not absolutely perfect that you may miss some wonderful pages. Moreover, the page with the most Likes does not necessarily mean a better one. Thus we list ten most helpful Chinese Learning Facebook pages for you below.
Note before start: Although you can view the page's content without logging in, it is highly recommended to log in your Facebook account or create an account to like these pages. By liking a page, you can see the update in page feed in time, you're able to interact with the page owner who probably is a native Chinese teacher as well as with other Chinese learners from around the world.
This is our own Facebook page where we share various Chinese language topics in a fun way, including the latest Chinese catchword, frequently used Chinese vocabulary, Chinese character, grammar, conversations, Chinese culture and strategies of test preparation.
Example:
 
This page is updated every day, and we have professional native Chinese teacher online to answer the questions put forwarded by the Chinese learners on this Facebook page. If you taught yourself Chinese, you much learn a lot beyond the books from a teacher, go for it!
Just as its name suggests, the Written Chinese is a Facebook page focus on Chinese characters. Only one Chinese vocabulary is introduced at a time, each post attaches a photo with both the traditional and simplified Chinese character versions as well as pinyin on it.
In the text description, you can learn what the Chinese word means and the sentence contains the word. Besides, it provides link references to third-party web sites for character breakdown learning.
Example:
 
By the way, another Facebook page about Chinese character learning is also recommended because it makes learning Chinese character interesting.
This Facebook page covers rich topics, for example, vocabulary, China's scenic spots introduction, quotes, and the most popular content is the Chinese vocabulary learning. Consisting text with some graphics, Touch Chinese makes the learning content active. These vocabularies are used often in our life. Each term corresponding to pictorial diagram, and the same kind of vocabulary will be put together for easy study and remember.
Example:
 
YoyoChinese Facebook account share some excellent blog posts about Chinese language learning. Yes, their blog content is diverse and engaging, and Yoyo will write an introduction to tell you the main content of the post along with the link for full-text.
Like their page to get notes about what great content they have updated in time.
Example:
 
Actually, this page doesn't share all the things about Chinese, and it is much more about motto in Chinese. This is one of the few pages create Chinese language content without pinyin, yet many readers are attracted by the pure Chinese saying which full of life philosophy.
The Chinese mottos are mostly about love, life and updated twice a day.
Example:
 
If you do business with China or want to apply a job in China, this page is helpful for you. It is mainly for business man that there are a lot of posts about business Chinese vocabulary, job interview phrase, Chinese business culture and etiquette. Furthermore, you also will learn some daily Chinese from this page for better communicate with Chinese clients and colleagues
Example:
 
China Central Television (中央电视台), commonly abbreviated as CCTV, is one of the Chinese state medias, and the CCTV中文 Facebook page is aimed to broadcast Chinese News in traditional Chinese for ethnic Chinese around the world.
From this page, you can get acquainted with the latest happenings in China and learn Chinese at the same time.
Example: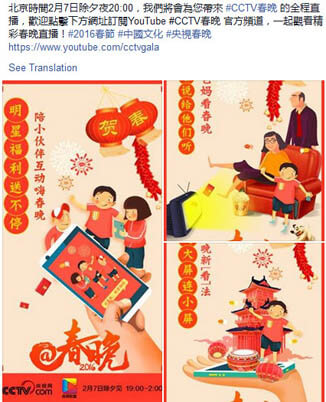 Like Touch Chinese, Chinese easy using an easy way to recognize and memorize Chinese characters & phrases.
Example:
 
ChineseSkill is a Chinese learning app, and all the content shared on Facebook page are from their app. The pretty pictures and cool description make it especially suitable for children to learn Chinese.

Example: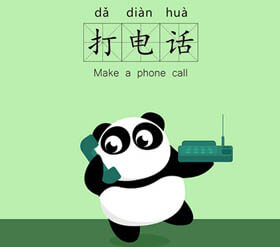 A Facebook page teaches Chinese in Russian and English, Chinese learners from Russia should have a look.
Example:

However, what you learn from these Facebook pages is fragmental, if you want to learn Chinese systematically and effectively, contact us and our Chinese teacher will customize Chinese plan for you based on your interest and Chinese level.