There are various Chinese textbooks on the market, so choosing some good books can be challenging for beginning Mandarin learners. Below are five popular books that we can recommend.
1. Two oral course books.
New Concept Chinese is published by Beijing University Press. The content of this textbook is practical and interesting. Materials include the textbook, workbook for Chinese characters, pictures and cards for teaching, and a CD-ROM.
Conversational Chinese 301 is published by Beijing Language and Culture University Press. There are 40 lessons and 8 review lessons in total. This book aims at developing beginners' ability to communicate in Chinese. Each lesson contains six parts: Sentences, conversation, substitution and extension, new words, grammar, and practice. Further, the book is annotated in different languages.
2. Textbook Recommended if you are interested in Chinese culture.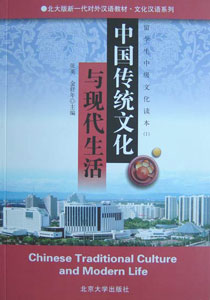 Chinese Traditional Culture and Modern Life would be a nice choice. This textbook is published by Beijing University Press with a range of topics, such as "What is the Chinese new year" and "Who are the four most beautiful women in ancient China?"
3. Textbook Recommended for studying Chinese systematically or learning how to write Chinese characters.
New Practical Chinese Reader is a good choice, it is published by Beijing Language and Culture University Press. Popular with overseas Mandarin learners, New Practical Chinese Reader consists of three books: textbook, instructor's manual and learning Chinese characters. These can meet the needs of both teachers and students of Chinese as a second language. As for the characters, each lesson has two parts. In the first part, some character components are introduced, and then you are shown how the components are combined to form characters in the text. Rules for constructing and writing characters are also provided. In the second part, a variety of writing exercises is provided.
4. Textbooks recommended by Hanbridge Mandarin teachers.
Finally, we recommend Our Chinese Classroom which teachers and students at Hanbridge Mandarin use. This book is designed to help beginners to effectively master basic Chinese communication skills within a short period of time. It uses a vocabulary based on HSK, and it also uses a large number of words and dialogues conveying Chinese society as well as daily life, as well as the work of foreigners in China.
If you are finding the Chinese books for your kids, then take a close look at 5 Recommended Chinese Textbooks for Kids.
Do you need more professional advice? Take a free 1-on-1 live Mandarin lesson with our qualified and experienced Chinese teacher now.