Learning a foreign language by watching movies/TV series can be a great way to get ahead in learning a second language. Of course learning Chinese has no exception. If you have been learning Chinese for a period of time, watching Chinese movies can help you with your listening skills, but also improve your spoken Chinese, too.
Chinese spoken in movies is very close to what you'll hear if you speak with native Chinese speakers. Sometimes, you will encounter some dialects, that is also an interesting part.
Watching TV series is a fun and entertaining way to immerse yourself in the language context, which offers you the benefits of visual comprehension. If you're tired of going to class or reading a book, learning Chinese through movies and film is your best choice.
Chinese TV series is usually longer than TV Plays in western countries. It portrays a story with a complicated plot. Below are 10 most popular websites for you to watch Chinese TV series online for free.
1. YouKu TV (http://tv.youku.com/)
Youku.com is a Chinese version of YouTube.com. It is one of China's largest streaming video sites. The TV Channel offers thousands of latest TV dramas that are newly released. There is a special channel offer some mini-series and gains great attention among Chinese netizens.
Most Chinese movies has Chinese subtitles, in this way, your Chinese listening and reading comprehension can be greatly improved. Youku can be my top position among the resources to watch Chinese movies.
2. Tudou TV (http://tv.tudou.com/)
Tudou, another Chinese video sharing website, merged with YouKu. It provides many full-length TV series, TV shows and movies from China, South Korea, America and other European countries. For some new released movies, you may have to subscribe to their monthly or yearly plan.
3. PPTV (http://tv.pptv.com/)
PPTV, formerly known as PPLive, is a right place for you to watch Chinese TV series. The series are categorized in multiple aspects, like countries, themes, year and actors. As to other Chinese video sites, there are some ads before you actually enjoy the TV series. You have to pay if you would like to block the ads.
There are also applications for desktop and mobile platform, both Windows and Mac, Android and iOS versions are available.
4. PPS.TV (http://www.pps.tv/)
PPS.TV is another great streaming video network. There are programs on Windows and Mac available. But the whole interface is in Chinese, so if you can't recognize hanzi very well, it would be a great challenge for you to browse the channels you want. The quality of playback is generally very good and users should have a decent connection.
5. Baidu TV (http://v.baidu.com/tv/index/)
Baidu TV Series Channel is attached to Baidu, China's largest search engine. The site provides a large number of up-to-date hit dramas and feature programs. With considerable financial strength, Baidu can provide viewers with the up-to-date the complete TV plays.
6. iQiyi (http://www.iqiyi.com/dianshiju/)
Iqiyi TV, like Hulu in the US, is a streaming video platform that owed by Baidu, which focusing on Chinese HD TV series and movies. It not only provides the newest copyrighted video content, but also produces its own funny content to attract young generations.
7. QQ TV (http://v.qq.com/tv/)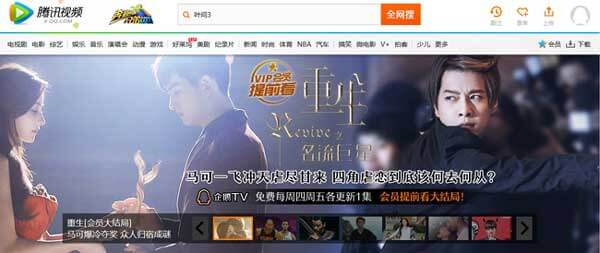 QQ is the largest and most popular instant-messaging platform in China. Its TV Channel provides the full-episode TV plays online. With your login to QQ account, you will be able to bookmark the shows you would like to watch later and subscribe to the update of the series. You can also download the videos to your computer or mobile devices to watch later. Its mobile app supports Android, iOS and Windows Phone platform.
8. Sohu TV (http://tv.sohu.com/drama/)
Sohu is a part of Sohu搜狐. Sohu Video channel streams up-to-date legitimate HD TV plays, TV shows, sports broadcasts and movies from Mainland China, Hong Kong and Taiwan, as well as TV Plays from Asia and western countries.
9. 360 TV (http://www.360kan.com/dianshi/index.html)
360 TV is more like a video directory platform, which provides many resource entrances which can direct you to the popular TV series owned by other sites. Until you find the best site with amazing watching experience, you can switch the links as you wish.
10. Letv (http://tv.le.com/)
LeTV, a popular Chinese streaming website, provides legal TV shows and movies from countries and regions such as Mainland China, South Korea, Hong Kong, Taiwan and Thailand.
11. Xiangchao Kankan (http://tv.kankan.com/)
Xiangchao Kankan is a video-on-demand site which HD TV and many other video materials. There are Android and iOS app version available. Kankan is also available on mobile platforms including Android and iOS.
On the above 10 websites, you can watch a variety of Chinese TV Dramas, animations, movies, TV shows from US, UK, KR, as well as Korean productions. However, the website languages are all in Chinese, and not all videos on the above websites are free.
Also, you can only watch these videos with IP address in China. For users from other regions outside Mainland China, you would need a VPN service to watch it.
What have to mention is that the ads before or during the video are unbelievable nowadays, it's about 99 seconds long, if you would like to remove the annoying ads, you can subscribe to their VIP plans, generally, the rate is 20 RMB per month. If you would like to watch some hot videos or movies, you would also need a VIP privilege to unlock it.
The websites listed above will almost certainly not have English subtitles and some may have none at all. Well, it's a bit challenging for your listening comprehension. Have fun in China! If you want to learn more Chinese, you can book a free trial class here and learn with our teachers now!