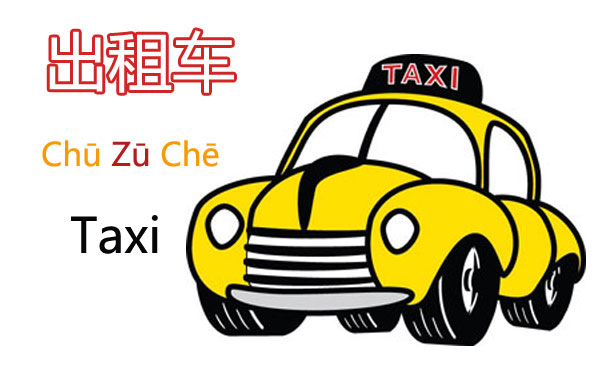 Taxi is a type of vehicle hired by a single passenger or small group of passengers with a determined pick- and drop-off which is differs from other public transport and it is normally a non-share ride which means if the taxi is hired by someone, it will not be available for any others. It's translated to Chinese in: chū zū chē – 出租车 – where chū zū translates into "rent". There is another name for taxi in China, named 的士, which is a Cantonese transliteration of the English word "taxi". If you travel in China, taxi will be the most facility vehicle to take you anywhere you want. How to take a taxi and how to communicate with driver for some essential questions? Learn more about building your oral communication skills.
Dǎchē
打车 (Take a taxi)
Chéngkè
乘客 Passenger
Sījī
司机 Driver
Learn Some Useful Phrases for Taking a Taxi with Our Native Chinese Teacher Lilian
Let me share a dialogue to see how to take a taxi.
Chéngkè : Dí shì!
乘客: 的士!( Passenger: Hey, taxi.)
Sījī: Nǐ hǎo, qǐngwèn qù nǎ'er?
司机:你好,请问去哪儿? Hello, may I know where to?
Chéngkè : Wǒ qù shǒudū jīchǎng
乘客:我去首都机场 (I am going to capital airport.)
Sījī: Hǎo de, qǐng xì hǎo ānquán dài.
司机:好的,请系好安全带。
Driver: ok, please buckle up.
Chéngkè : Xièxiè! Ānquán dì yī, qǐng màn diǎn kāi.
乘客:谢谢!安全第一,请慢点开。
Passenger: Thank you. Please drive slowly to make sure safety.
Sījī: Bié dānxīn!
司机:别担心!
Driver: Don't worry!
……
Sījī: dǔchēle
司机:堵车了 (We got traffic jam.)
Chéngkè: Méishì, wǒ bù jí.
乘客:没事,我不急。 No problem, I am not in a hurry.
……
Sījī: Dàole
司机:到了 ( We are arrived.)
Chéngkè : Hǎo de, wǒ zài zhè xià chē. Duōshǎo qián?
乘客:好的,我在这下车。多少钱? (Ok, let me get off here. How much is it?)
Sījī: Jiǔshíwǔ
司机:95 (Ninety five)
Chéngkè : Xièxiè, bùyòng zhǎole.
乘客:谢谢,不用找了。(Thank you. Keep the change.)
Sījī: Xièxiè! Zàijiàn!
司机:谢谢!再见! (Thank you! See you.)