The Mid-Autumn Festival is an annual Chinese harvest festival. The Mid-Autumn Festival falls in the eighth lunar month, usually in September or October. It's an occasion for families to gather to eat together, honor the spirits of their ancestors, and recall the legend of the moon goddess.
In order to celebrate Mid-Autumn Festival with Hanbridge Mandarin students, our Zhuhai branch campus held a Mid-Autumn Festival Party on Thursday, September 22nd at TCL Bar in the H Building at Taishan Nuclear Power Plant. 
Our students were a bit nervous at the beginning of this party, because we played a Chinese traditional game called jī gǔ chuán huā, during which one player is drumming while the others pass round a flower blossom. When the drums stopped, whoever holds the flowers must introduce themselves in Chinese. This game is very funny and exciting.
Then our Hanbridge Mandarin teachers introduced the myth and legend of the Mid-Autumn festival, the origin of the Mid-Autumn festival and customs by the video. After, everyone tasted the delicious moon cakes together.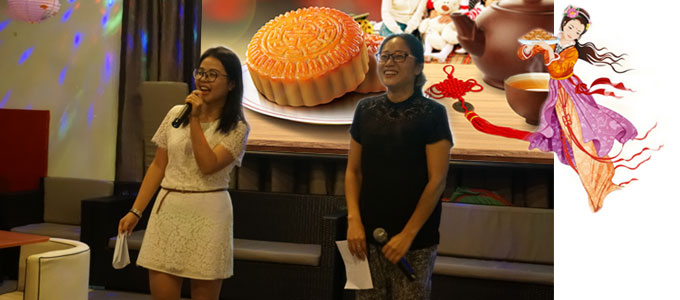 The most popular activity in this party was making festival lanterns. The students also wrote blessing words for their families on lanterns.
We also held the second Mid-Autumn Festival Party on Wednesday, September 23rd at Zhonghuan Plaza, Dear coffee for our Hanbridge Mandarin students who live in there. They love this party so much!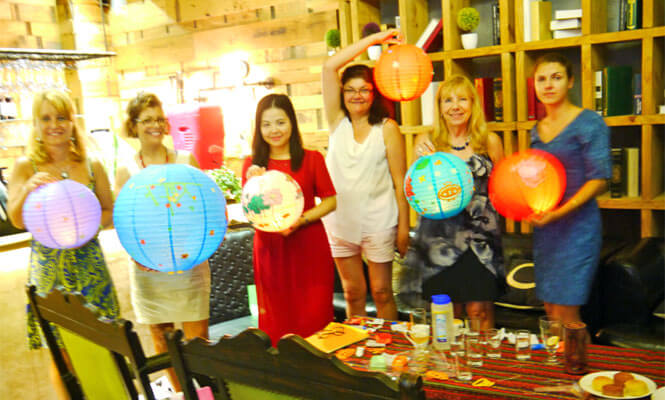 Hanbridge Mandarin School is devoted to promoting Chinese traditional culture for our foreign students and friends. Our goal is to let them know Hanbridge Mandarin not only teaches Chinese language, but also Chinese culture. Join us to learn Mandarin now!