Every year in New York City the Met Ball, the fundraising gala for the benefit of the Metropolitan Museum of Art's Costume Institute, attendees base their attire choices on a central theme. This year's theme was "China: Through the Looking Glass" – an ode to honor China's growing fashion influence.

Dragons, qipaos and lots of red were on display. Let's take a look at how the stars interpreted China this year – especially two cases of fashion imitating life.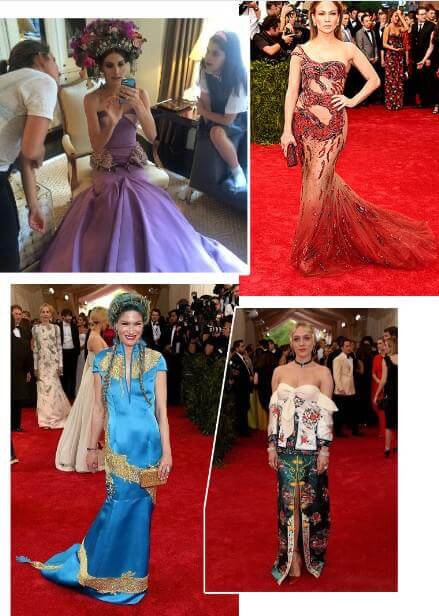 Rihanna, a big name in both the music industry and Hollywood, wore a massive yellow fur cape with a tail that had to be carried by at least by four people. Several Western social media outlets praised Rihanna for her bold fashion statement, but Chinese netizens were less impressed. Many said her dress looked less like elegant evening wear and more like the humble street food item jianbing – essentially an egg pancake. Take a look for yourself below.



Sarah Jessica Parker was also derided for her choice of gown by the Chinese online community. Attempting to channel her inner dragon, Parker instead looked to be imitating HuanHuan – a mascot from the 2008 Beijing Olympics.

If you Learn some Chinese fashion vocabulary, you will get to know Chinese fashion and culture better. You can choose learn Mandarin online or learn mandarin in China, both can help you learn Chinese and know about Chinese culture and fashion better.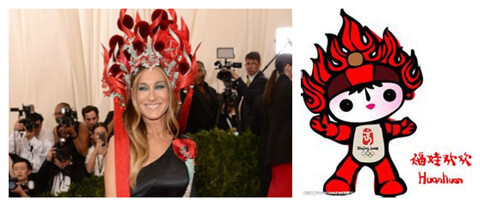 A little Chinese fashion vocabulary:
| | | | |
| --- | --- | --- | --- |
|  fú wá |  qí páo |  zhōng guó hóng | lóng tú téng  |
|  福 娃 | 旗 袍  |  中     国   红 |  龙  图   腾 |
|  Beijing Olympics mascot |  traditional Chinese gown |  Chinese red |  Dragon |