汉桥主题汉语角正式启动
Hanbridge Mandarin Launches Chinese Corner!
Hanbridge crée le coin du chinois
为了增强学生们的汉语学习热情,锻炼学生们的汉语会话水平,丰富学生们的汉语学习生活,更加深入地了解中国语言及其文化的魅力,2015年12月 21日晚上,汉桥语言学校成功举办了第一期汉语角活动。本次活动以"圣诞快乐"为主题,尽管活动时间处于学生们的度假高峰,但仍然吸引了不少的汉语爱好 者。
The first Hanbridge Mandarin-sponsored Chinese corner was held on the evening of December 21st, . This Chinese corner content was prepared by Hanbridge Mandarin's teaching staff and focused on the theme of "Merry Christmas." The Chinese corner was held to enhance our students' experience and enjoyment in learning Chinese. The event proved popular as it attracted lots of participants even though it was held during a very busy time of work for the Taishan students.
Afin de lever l'enthousiasme des élèves pour le chinois et leurs niveaux orals, d'enrichir la vie d'apprentissage du chinois et de connaître mieux la charme de la langue et la culture chinoises,Hanbridge a organisé avec succès le coin du chinois pour la première fois au soir du 21 décembre 2015. Le sujet était « Joyeux Noël », cet événement a attiré beaucoup defans du chinois bien qu'il tombe la période de vacances.
来此参加的学生们都积极地进行了自我介绍。大家都用标准且流利的汉语讲述了自己的汉语学习情况。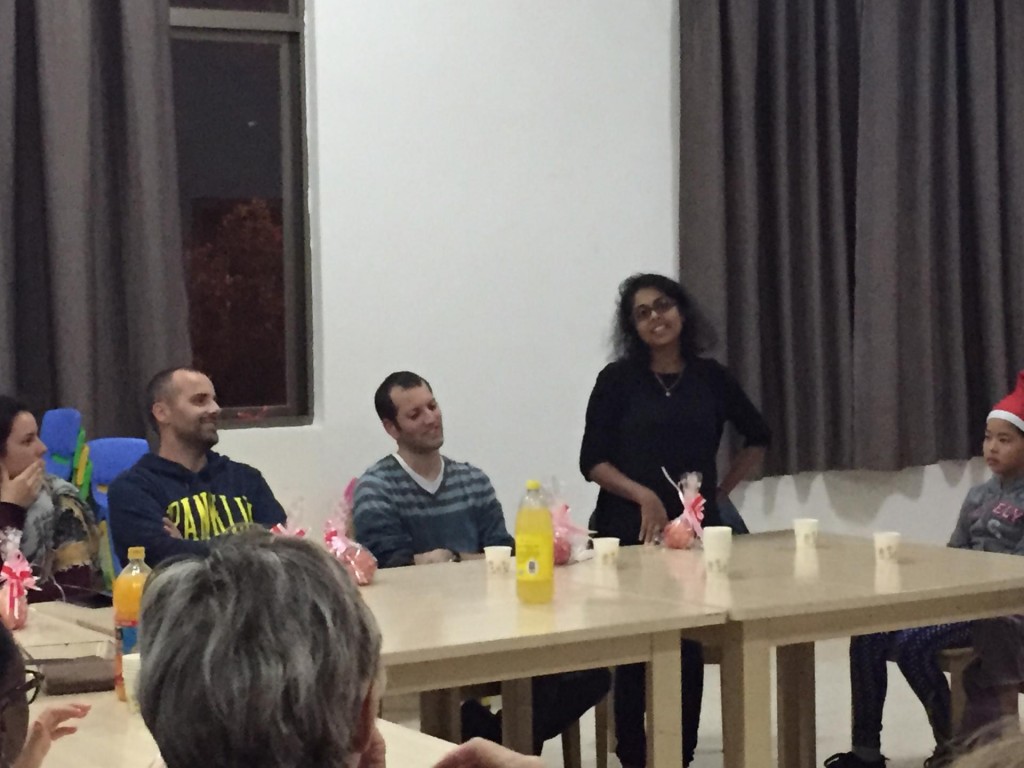 本次活动,学生们学到了不少关于圣诞节的词汇和祝福语并互送祝福。另外大家还谈论了一些关于圣诞节的电影。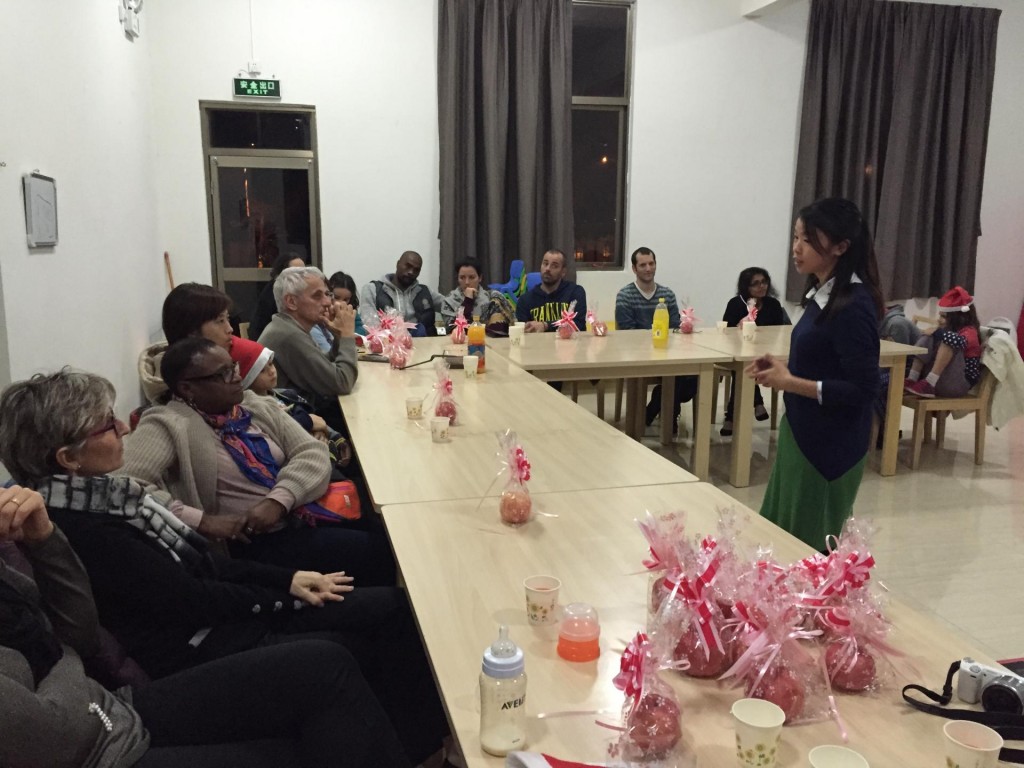 The students who participate in this activity introduced actively themselves. All students shared with us about learning Chinese, in standard and fluent Chinese.
The students learned a lot of vocabulary and greetings pertaining to Christmas. After a bit of practice, they tried their new greetings out on each other. In addition, we also talked about some Christmas movies.
Au début, les étudiants se sont présentés activement. Chacun a parlé couramment en chinois de leurs études du chinois.
A travers cette activité, les étudiants ont appris beaucoup de locutions de vœux et des vocabulaires à propose de Noël, et ils se sont donnés des vœux en chinois. De plus, on a discuté des films à l' égard de Noël.
为了增强节日的氛围,本次活动中,老师们还教学生唱中文歌曲《祝你圣诞快乐》。学生们的学习能力都很强,经过短时间的学习和练习之后,学生们还进行了一次大合唱,歌声悦耳,余音绕梁。
In order to enhance the festive atmosphere, the teachers also taught students to sing "We Wish You a Merry Christmas" in Chinese. Given the students' excellent ability to learn quickly, they became quite a choir in a very short amount of time. Their singing was a treat for the ears.
Pour marquer l'atmosphère de fête, dans cette activité, les enseignantes ont appris à chanter une chanson chinoise Joyeux Noël. Les étudiants apprennent vite, après une courte période d'apprentissage et de pratique, les étudiants ont mené un chorus merveilleux.
大合唱过后,大家还一起玩游戏,还有一些学生即兴表演。
After the chorus, we also played some interesting games and watched some students'perform their new Chinese words.
Après le chorus, on a joué des jeux et a admiré des performances improvisées des étudiants.
学生们都对中国的汉字非常感兴趣,游戏结束后,老师们教学生写"圣诞快乐"四个字,学生们觉得用毛笔写汉字特别新奇。很多学生对毛笔爱不释手,最后还纷纷展示了自己的写作成果。
Finally, to satisfy some students' love of Chinese character learning, the Hanbridge Mandarin teaching crew helped everyone to learn how to write"shènɡ dàn kuài lè (Merry Christmas)" in Chinese. They novelty of writing Chinese characters with a Chinese inkbrush proved to be very popular. Many of the students loved the calligraphy and are looking forward to trying out their new skills.
Les étudiants s'intéressent beaucoup à la calligraphie, après les jeux, les enseignantes leur ont appris à écrire shènɡ dàn kuài lè (Joyeux Noël) en chinois, les étudiants trouvent que c'est très intéressant d'écrire les mots avec le pinceau chinois. Les pinceaux chinois ont tant d'attirance pour beaucoup d'étudiants, ceux-ci ont présenté leurs œuvres d'écriture à la fin.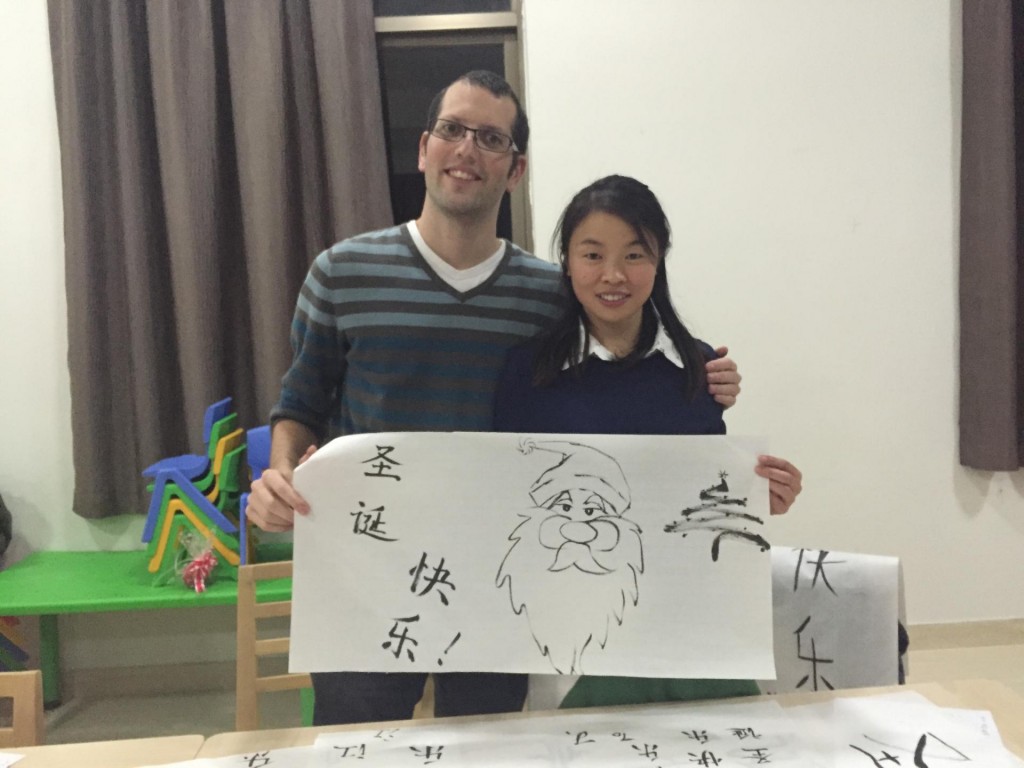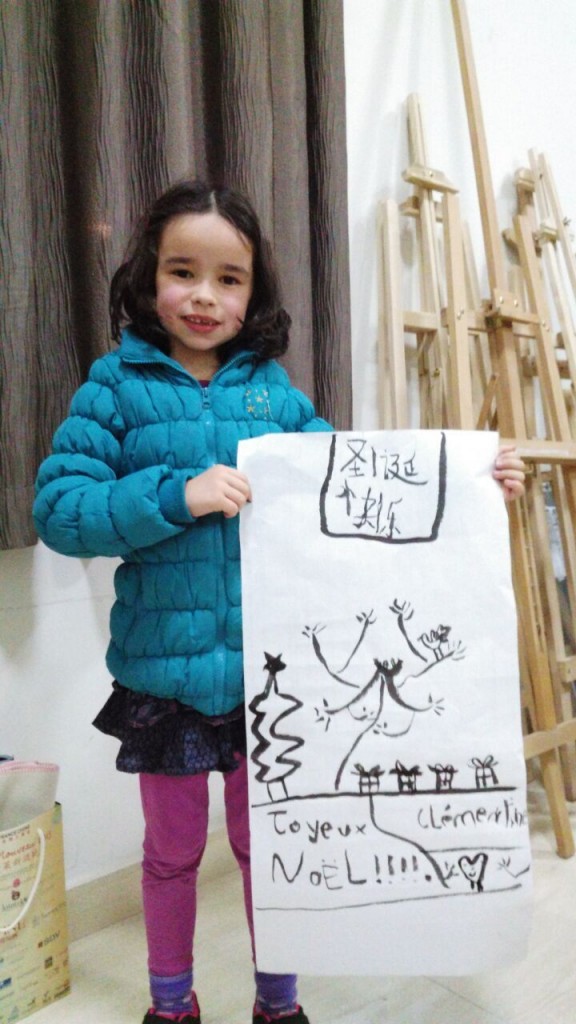 活动的最后还设置了一个自由交谈环节,学生们可以自己找搭档练习说汉语。轻松的氛围和精彩的游戏环节设置不仅让大家学到了汉语,也让大家度过了一个愉快的夜晚。最后,感谢所有的学生带来美味的食物,希望汉桥汉语角能带来大家更多欢乐!
At the end of the activity, students paired up to work on their Chinese in a relaxed environment. With the relaxed holiday atmosphere and the intimate setting, we all had a wonderful learning experience and can't wait for you to join us next time! At last, thank for all students' delicious food and hope Hanbridge Mandarin corner can bring happy to you.
Le dernier programme était la discussion libre, les étudiants ont trouvé eux-mêmes un partenaire pour exercer le chinois. L'ambiance détendue et des jeux amusants nous ont permis non seulement d'apprendre le chinois, mais aussi nous ont donné un soir joyeux. Enfin, merci pour les nourritures délicieuses apportées par les étudiants, nous souhaitons que Hanbridge puisse vous présenter plus de joie.