In order to celebrate Christmas Day, Hanbridge Mandarin held a potluck party with many Shenzhen local friends at Hanbridge school on Saturday, December 20th.
2014年12月20日星期六,汉桥汉语学校邀请了数位深圳当地的外国朋友一起聚餐庆祝圣诞节。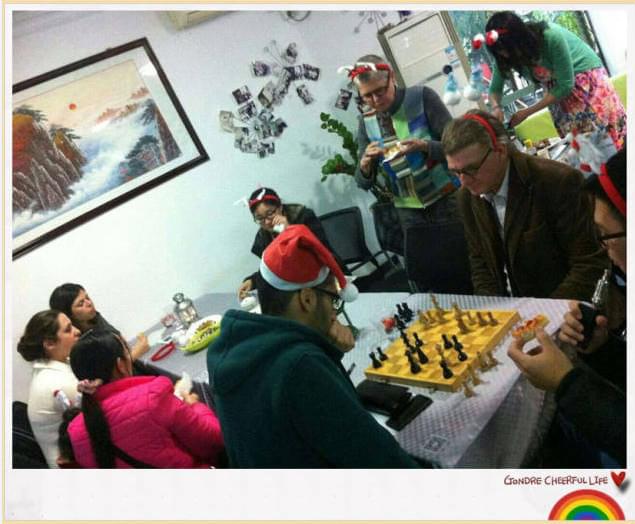 There are four friends showed their live demonstration of cooking skills, their national dishes are Paola's Italy Pizza, Chang's Chinese sweet and sour spare ribs and Ali and Wasin's Thailand meat pie with Thai Sweet & Chilli Sauce. After the dinner, we played an exciting treasure hunt and everyone got a Christmas gift.
有四位朋友现场展示了厨艺,都是具有自己国家特色的菜式,Paola做的是意大利披萨,畅做的是中国的糖醋排骨,Ali和Wasin做的是泰式的肉饼配有泰式甜辣酱。吃过晚饭后,我们还玩了一场刺激的寻宝游戏,每个人都获得了圣诞礼物。
At last, thanks all which Paola's family did, she and her family directly move Italian kitchen at our party. It's so amazing! Thanks Arend and his wife's kirsch, it's so delicious! Thanks Chang and Canna's help. Thanks Ali and Wasin's song "little apple" during the game loop, it's really very funny!
最后,非常感谢Paola一家人,她们把意大利厨房直接搬到的我们聚会上,真是太神奇了! 感谢Arend和他的老婆带来的樱桃酒,非常美味,感谢畅和Canna的帮助,还有游戏环节Ali 和Wasin唱的"小苹果",非常有趣。
This potluck party created Chinese and foreign food cultural exchange platform, Shenzhen local foreign friends have deepened the understanding of Chinese cooking and everyone played happy together. If you are interested in join us, or want to learn Chinese in Shenzhen, please contact Hanbridge, we also have Chinese cooking class in Hanbridge school, we are looking forward your coming!
这次聚餐给大家提供了中外美食文化交流的平台,加深了当地外国人对中国厨艺的了解,大家都玩得很开心。如果你有兴趣加入我们,请联系汉桥,我们也有中国厨艺课哦,期待您的光临!