With the development of the Chinese economy, demand for students who are learning business Chinese is constantly on the rise. How someone can adapt to these needs and improve their efficiency of business Chinese is a question that we constantly think about in both teaching and learning.
Below are some business Chinese textbooks recommended to someone who wants to learn business Chinese or to a Chinese teacher who wants teaching material.
1. Into business with Chinese
<<商务汉语一本通>>
This book is specialized for the elementary level. There are 12 units in this book. Each of them refer to a common business scene, such as "arriving in china", "asking the way", "introducing the company", "marketing", "signing a contract"....
It is suitable for people who are just learning Chinese from the beginning.
2. Business Chinese
<<公司汉语>>
This book follows several office workers in one company for its main story. It features illustrations, and has the office workers dealing with many other agencies, company drama, schedules, meetings, work plans, discussing business progress, advertising, complaints and interpretations, hiring employees, applying for leave, staff training, enterprise culture, and so on. This book is divided into four units and 16 classes. Each class is divided into sections A and B, which reflect the same topic from different angles. At the same time, the emergence of new words in the two sections are listed separately, and the end of the sections feature basic practice questions: filling in the blanks, completing sentences, oral practice, and so on. It also features World Trade Organization (WTO) related vocabulary.
This book is suitable for someone who is studying in China or for students who have more than one year junior high school experience.
3. Hanyu Shang Wu Tong
<<汉语商务通>>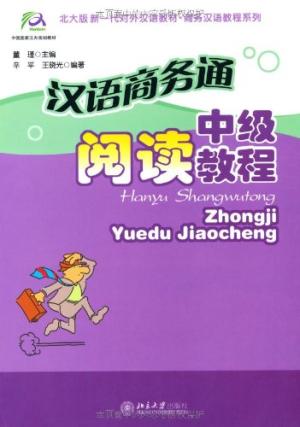 The materials in this book are very open, which deal with the Chinese economy's most important areas, such as consumption, foreign trade, banking, insurance, real estate, and other aspects. Business vocabulary is extensively covered, together with China's current economic and commercial hot topics, which help learners understand China's latest economic conditions. The textbook is designed like a novel, and also covers commonly used words and reading business articles.
There are about 16 classes in this book; every class features new words and exercises for those words, as well as texts and articles, comprehensive practice, supplementary reading and other relevant topics. The relevant topics or themes are similar or related to the article material, which gives teachers more choices for class.
The practice section is split into two types: word practice before learning the words and text and comprehensive practice after learning the words and text. The comprehensive practice promotes the understanding of the aforementioned text content, and also includes ideas for classroom discussions.
Pro Tip: In addition to Business Chinese textbooks, here is some advice for business Chinese learning that will help you a lot. If you want to learn business Chinese more efficiently, you can also get help from our professional Chinese teachers!