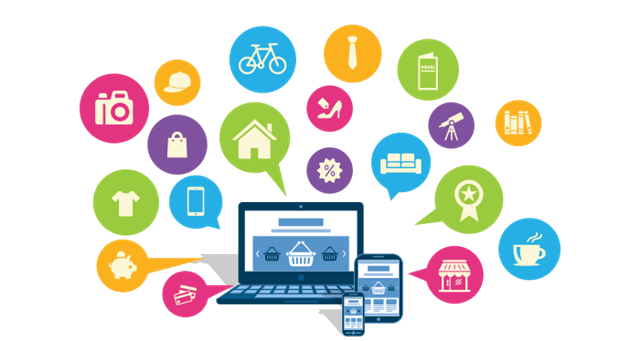 With 145 million online shoppers, it is projected that China will become the world's most valuable e-commerce market within four years. The forecast is that by 2017 Chinese people will each be spending $2,000 a year, about twice what Americans spend online now. So the market is booming, and lots of companies are starting e-commerce and trying to expand their online market share. Today's article will teach you some words on this topic!
E-commerce
E-commerce involves several steps before you seal the deal, so these are the words you may see and use:
| | |
| --- | --- |
| E-commerce 电子商务 diàn zǐ shāng wù | function 性能 xìng néng |
| internet 网络 wǎng luò | quality 质量 zhì liàng |
| web page 网页 wǎng yè        | wholesale price 批发价 pī fā jià |
| payment 付款 fù kuǎn | retail price 零售价 líng shòu jià |
| credit card 信用卡 xìn yòng kǎ | client 顾客 gù kè |
| enter account 输入账号 shū rù zhàng hào | profit 利润 lì rùn |
| to wire the money 汇款 huì kuǎn | cost 成本 chéng běn |
| purchase 购买 gòu mǎi | to negotiate 谈判 tán pàn |
| to confirm 确认 què rèn | inquiry 询价 xún jià |
| model 型号 xíng hào | declare at customs 报关 bào guān |
Ex:
1. It's cheaper to shop online than in a real shop.
在网上买东西比在商店买便宜。
Zài wǎng shàng mǎi dōng xī bǐ zài shāng diàn mǎi biàn yí.
2. Let me introduce a little bit about this product for you.
我给您具体介绍一下儿这种产品的情况。
Wǒ gěi nín jù tǐ jiè shào yī xià ér zhè zhǒng chǎn pǐn de qíng kuàng
3. Our product has very good quality, and it is well received by our clients.
我们的产品质量过硬,很受客户欢迎。
Wǒ men de chǎn pǐn zhì liàng guò yìng ,hěn shòu kè hù huān yíng
Online marketing
If you are doing online marketing in China by yourself, then you must take cultural differences into consideration when doing cross-cultural marketing. Chinese consumers have their unique consumption psychologies and features due to the deep influence of their traditional culture. In order to achieve the goal of marketing in China, companies must get to know relevant cultural traditions and cultural psychologies.Usually you need a Chinese marketing team to do it, but when you are making marketing strategies, talking about market positioning, etc, these are the words and expressions you may use frequently:
Fierce competition 竞争激烈 jìng zhēng jī liè
Market positioning 市场定位 shì chǎng dìng wèi
Marketing strategies 营销策略 yíng xiāo cè luè
Sales volume 销售量 xiāo shòu liàng
Market research 市场调查 shì chǎng diào chá
Market share 市场份额 shì chǎng fèn é
Promotion促销 cù xiāo
After-sale service 售后服务 shòu hòu fú wù
Advertising 广告宣传 guǎng gào xuān chuán
Cost-cutting 降低成本 jiàng dī chéng běn
Ex:
1. Our company is going to launch a promotion campaign.
我们公司将举行促销活动
Wǒ men gōng sī jiāng jǔ háng cù xiāo huó dòng
2. Our company's advertisements can be seen on a lot websites.
很多网站上有我们公司的广告。
Hěn duō wǎng zhàn shàng yǒu wǒ men gōng sī de guǎng gào
3. We must strive to improve our efficiency and cut the costs.
我们必须努力提高效率,降低成本。
Wǒ men bì xū nǔ lì tí gāo xiào lǜ, jiàng dī chéng běn.
Learn more business Chinese vocabulary from this list: Business Chinese vocabulary list.