Pinyin is an essential part of Chinese learning, for the beginners, maybe they don't need to learn Chinese characters, but they do need to learn Chinese pinyin. However, not all the Chinese learning materials have pinyin listed, for example, all Chinese movies have Chinese and English subtitles but without pinyin on it. Therefore, you need a program/software to help you convert Chinese character to pinyin.
If you search on the web, you'll find there are many tools can achieve it, but as a non-Chinese or Chinese beginner, you may be unable to find out which one is the best. In this guide, we'll introduce three best online tools to translate Chinese character into pinyin for you.
This tool offers Hanzi to pinyin conversation with numbers, accents and no ton options which meets the different needs of pinyin format. Further, it can identify common used polyphone and the conversion is very accurate. For the seldom-used polyphone phrases, it will display all the possible pinyin for you and then you have to identify the right one yourself. Yes, this is not perfect, but at least you won't make mistakes without even knowing it.
Please note that this program is only work for simplified Chinese, program for converting traditional Chinese to pinyin will be introduced next.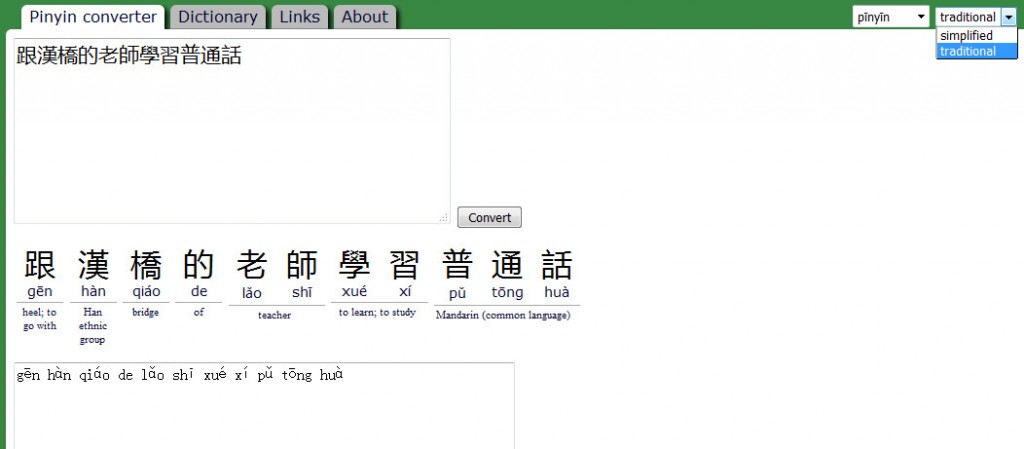 This tool not only able to convert traditional Chinese to pinyin but also convert simplified Chinese to pinyin. Moreover, select the tabs at the top-right corner then you can switch the traditional and simplified Chinese character.
I highly recommend this program to people who at low Chinese level because pinyin, Hanzi as well as English translation will be given in the conversation result. I also tested several polyphones and the polyphonic character recognition is high.
Here are some features:
Different tones are marked with different colors for readability, the first tone is red, the second tone is yellow, the third tone is green and the fourth tone is blue.
Click the sound icon to listen to the pronunciation.
Allow to translate long text. It offers the convert TXT/SRT file function but I failed to use it for unknown error, it jumped to the homepage after I clicked the submit button.
These are the three best tools to translate Hanzi to pinyin, each one has unique features. However, all the tools have the same disadvantage – they're imperfect, they are incapable of distinguishing polyphone, some English translations are wrong or don't work for long text etc.
To learn Chinese well, amount of learners agree that learning with Chinese teacher is the best choice. Don't need to look around, schedule a free Chinese lesson here now to experience how good to follow a professional Chinese teacher is on your own!